Remote production for ESL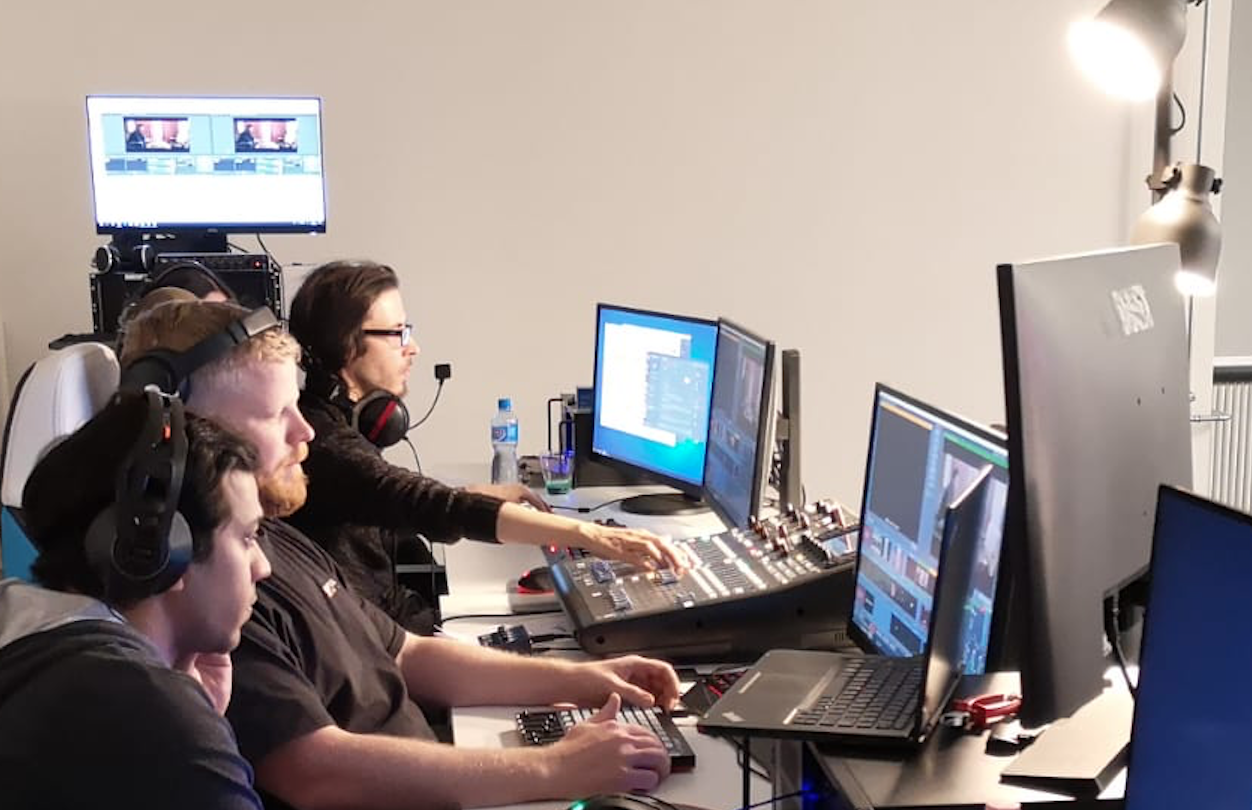 Medialooks Video Transport was recently used to integrate remote commentators into a live production process for a Swiss esports league.
Based out of Cologne, Germany, ESL is the largest and oldest producer of video game competitions in the world; it operates branded international leagues and tournaments such as ESL One, Intel® Extreme Masters, ESL Pro League and other top tier stadium-size events. ESL runs multiple TV studios and is the largest esports broadcaster on Twitch. We've spoken to Gisli Gudnason, who has been doing events and streaming since 2006 and has been part of the ESL Italy team since then.
A new league
ESL covers esports scenes of most of the European countries via dedicated national teams who run local ESL National Championships—competitions held in order to spread esports around the world.
ESL Italy was established on the basis of ProGaming Italia, which was founded in 2003 as a startup focused on creating digital entertainment events. Over the years it has evolved into a full-service event management company and developed a close relationship with ESL to bring the best esports events and activities to Italy.
Just recently, the team at ESL Italy helped launch a new subsidiary, ESL Swiss, and used remote production techniques during the first season of ESL Swisscom Hero League—a new local championship based on popular titles such as Hearthstone®, League of Legends® and Clash Royale®. A fresh, fully-featured TV studio was built for this purpose in Bern, Switzerland.
Due to the peculiar linguistic situation in Switzerland, a multi-language production was considered right from the start: in Swiss German and French. The original plan was to build two twin studios within the same facility to simultaneously serve two productions, each in their own language.
However, it turned out that it was too difficult to find French-speaking commentators within acceptable travel distance from Bern—therefore, the organizers needed to find a way to work with French talent remotely.
The studio setup
The new main studio is a 100 sqm space that has been set up with professional studio lighting, a commentator desk and decorated walls with LED TVs to convey additional content and sponsor branding.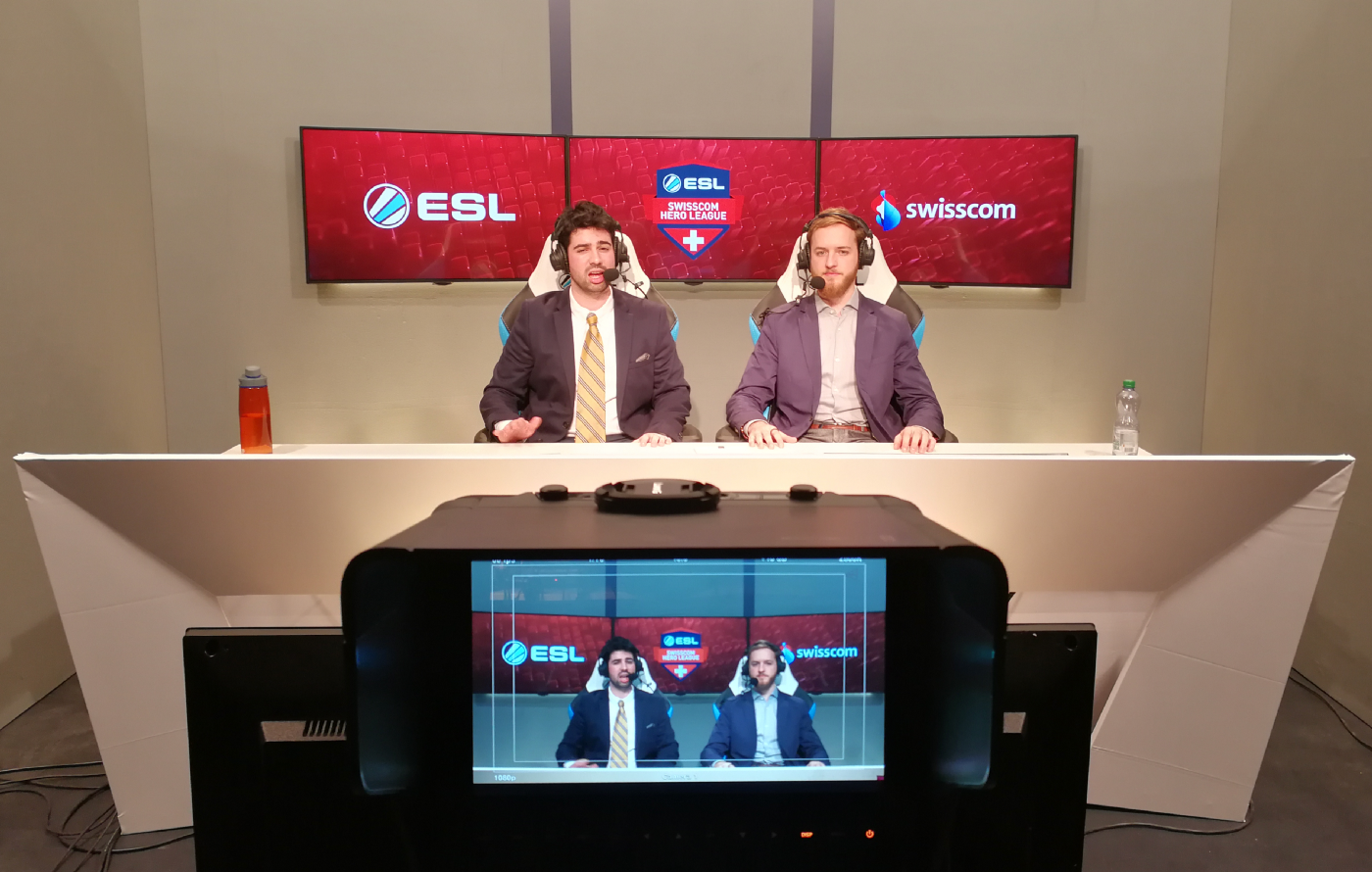 Following the long-standing practices in esports production within ESL, the video production setup was chosen to be software only: two state-of-the-art computers based on Core i9 processors were equipped with Blackmagic Design DeckLink cards and vMix for video switching and character generation. Both installations shared the same configuration and datasource, with the only difference being in static titles in the two required languages.
One digital Behringer X32 Producer mixer was set up to handle audio from commentators' headsets (Sennheiser HMD-27) plugged into Whirlwind THS3 announcer consoles. A Blackmagic Studio Camera 4K equipped with a lens from Panasonic was chosen for the filming.
While the commentators speaking Swiss German resided on site, their French colleagues were located in Lausanne, roughly 120 km away from the main studio in their own recording room with production PCs, a camera and audio mixing.
At this point Medialooks VT was tested to see wether the French production can be integrated with the same level of quality as the one created in Bern.
The master feed with embedded producer voice was sent to Lausanne and was used to provide the French team with both the gameplay feed and producer's directions. The camera feed facing the commentator was mixed with his audio and transported to Bern with a total of 100 ms delay, which means that the commentary was almost real time.
This was possible thanks to Swisscom who provided us with a 1 Gbps fiber optic connection.
With this setup the quality of the French production was indistinguishable from the one in Swiss German; both were streamed to Twitch and YouTube three times a week during the first season of the ESL Swisscom Hero League. Naturally, the same setup is planned for the second season, which is to start in the end of summer.
Looking forward
ESL Italy was quite happy with the results and has deployed the same approach for its own production (which is being aired right now): having commentators from Rome connect to the main control room in Bolzano.
Gisli concludes:
It's difficult to get the talent to travel all the way to Bolzano. It's all about where you have the manpower.
See also