UltraStudio 4K review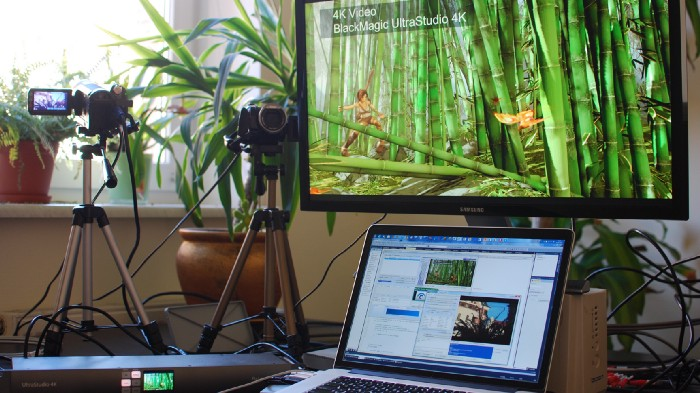 Blackmagic Design announced the first UltraStudio 4K model at IBC in 2012. In October 2013 they released an upgraded version, claiming it to be "the world's first video solution to include super-fast Thunderbolt 2 technology".
In September 2013 (released to the public in February 2014) the company released an important update to its software layer, Desktop Video 10. The new version, applicable only to UltraStudio 4K and DeckLink 4K Extreme, promised full duplex mode (simultaneous capture and playback) and decreased I/O latency. At this year's NAB, however, Blackmagic announced two new PCI Express boards — DeckLink SDI 4K and DeckLink Studio 4K; these are to benefit from the new software architecture as well.
We had the 2012 version of UltraStudio 4K available in our lab, so we decided to run some tests and see what we could find out.
Overview, unboxing, and first impressions
The UltraStudio 4K is at the top of Blackmagic's I/O line that features the ultra-fast Thunderbolt technology. It is designed for rack mount use, has an aluminum front panel with an integrated color LCD and a set of video and audio input buttons. The rear panel features probably all kinds of video and audio connectors that you can think of including SDI, HDMI 4K, analog component, s-video or composite, as well as balanced analog and AES/EBU digital audio.
The 2013 version had several improvements compared to the 2012 version:
Support for Ultra HD (3840x2160) capture and playback via 6G-SDI connectors or HDMI (our model features 3G-SDI and works with up to 4K).
Thunderbolt 2.
Two Thunderbolt ports (instead of only one in the 2012 model) with loop through support (allows connection of up to 6 devices via a single port on the computer).
The newest version is available from Blackmagic for $995.
Just as expected for a product of its class, the unboxing was not that exciting: we found just the device and a CD. We were surprised, however, to not find a power cord and a Thunderbolt cable in the box. Of course, we have tons of these in our office — but keep in mind that these are not included.
We loved the solidness of the device, the LCD (proved to be quite handy during our tests) and the input buttons. The thing gives you a really nice geeky feel and (probably) can be used to impress girlfriends.
Configuration
We used the following configuration while carrying on with the tests. Please note, that our SDK, as of today, works on Windows only. So this test may not be as useful for Mac folks as it will be for our own customers.
Blackmagic UltraStudio 4K (2012 version) with Desktop Video 10.0 for Windows
Apple MacBook Pro with Retina display (Early 2013), 2.7 GHz running Windows 7 Ultimate x64
Samsung U28D590D UHD monitor
Sony HDR-HC3 camera
DeckLink HD Extreme 3D
Full duplex mode
The first thing we tried was the full duplex mode. We plugged our Sony camera to the HDMI input of the UltraStudio 4K and attached our new Samsung monitor to the HDMI output. We used our Live Source sample to receive the stream from the UltraStudio and used our Playlist sample to play out a different stream to the UltraStudio and to the monitor.
Simultaneous I/O worked perfectly, even when we set different resolutions for the input and output streams: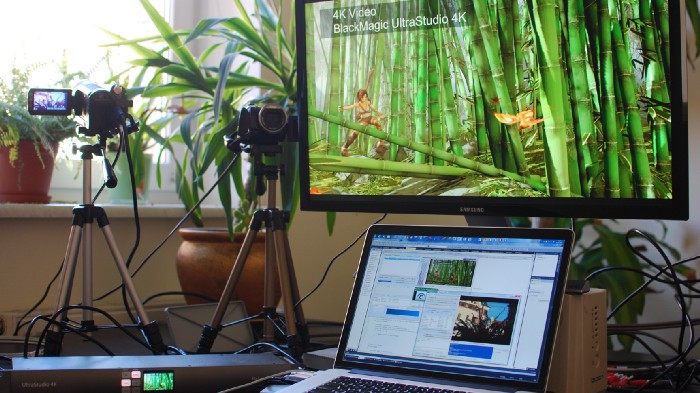 The camera's SD streams do not look so impressive, so we wanted to try simultaneous I/O of 4K content. But since we didn't have another 4K source, we used a small trick: connected the UltraStudio's SDI output to the input and used the Playlist and Live Source samples to send and received the stream.
The result was perfect: both streams looked nice both in DCI 4K 24p (4096x2160) and UHD 4K 30p (3840x2160) resolutions: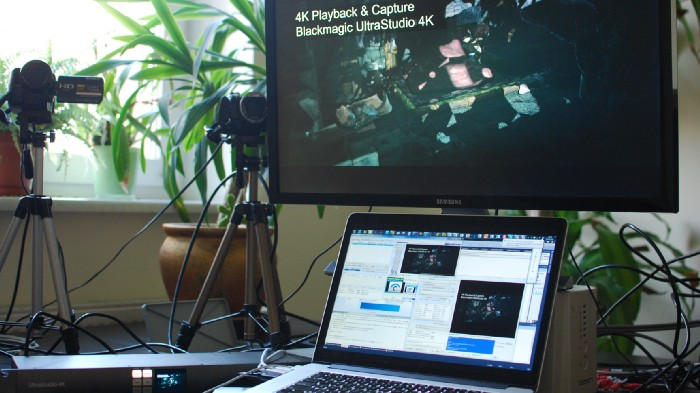 Latency
Lower latency is something that customers have always demanded from us. We kept telling them that we've done everything we could as far as our own software architecture was concerned — nevertheless, customers were never happy.
To test the latency we used the same output to input connection. We took the Playlist sample and used the Character Generator to overlay an increasing frames counter on the output stream. We captured that stream with the Live Source sample and compared the counters on the input and output previews.
The result was amazing: an average total latency of just 3 to 4 frames! This is the first time we've seen such latency on a Blackmagic device:
PAL — 3 frames (120 msec), 1080 50i — 3 frames (120 msec), 720 50p — 3 frames (60 msec), 1080 50p — 3 frames (60 msec)
NTSC — 4 frames (133 msec), 1080 59i — 4 frames (133 msec), 720 59p — 4 frames (66 msec), 1080 59p — 4 frames (66 msec)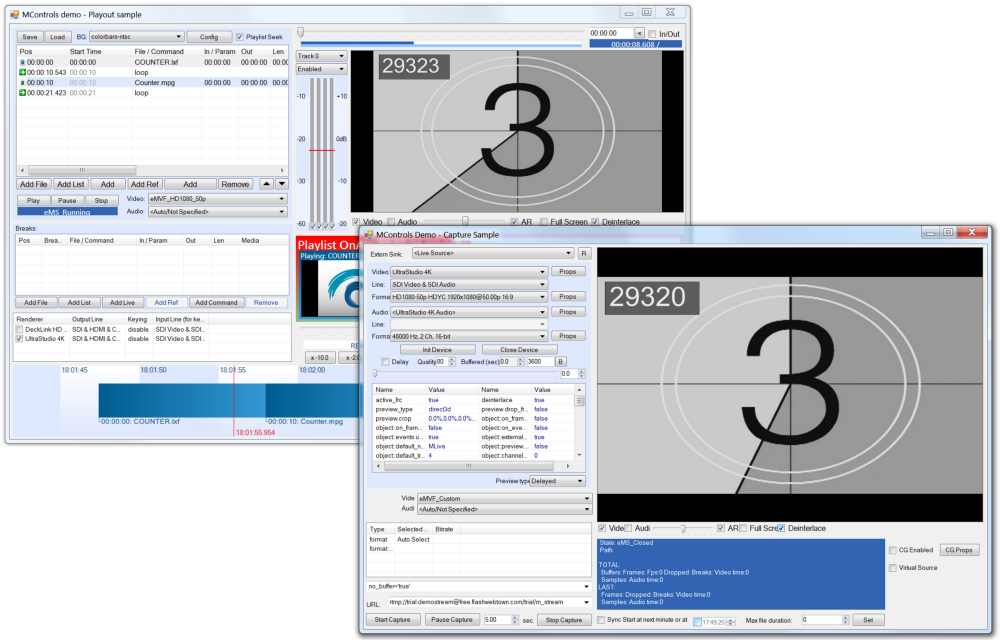 We've also tested the output latency separately. From the log in our SDK, we know that there's almost no delay on the Preview. So I made photos of the Preview window and the JVC. We've observed an output latency of 0 to 1 frame (latency does not "happen" in frames, so this value is inconsistent):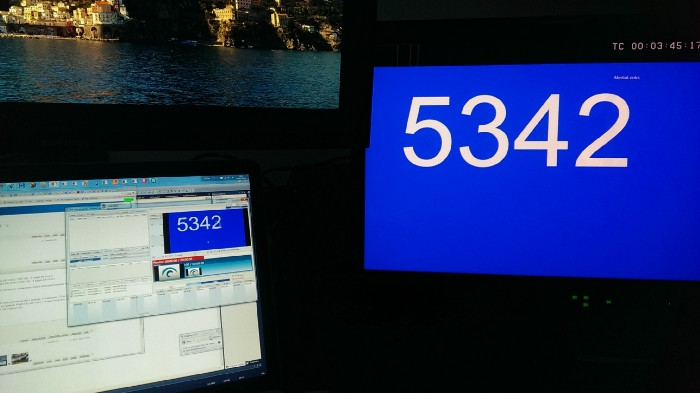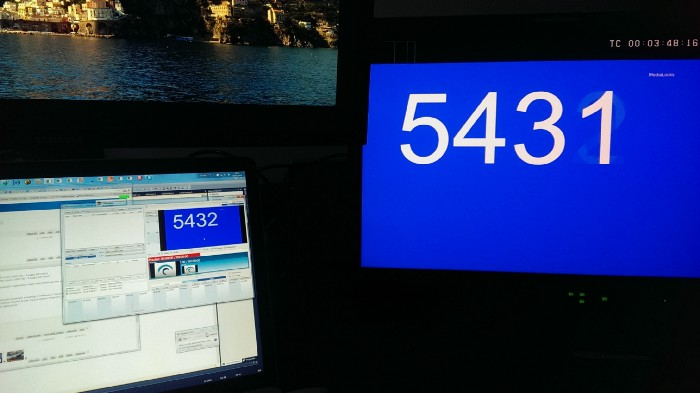 For comparison, the reference DeckLink HD Extreme showed latency of 2–3 frames in the same test: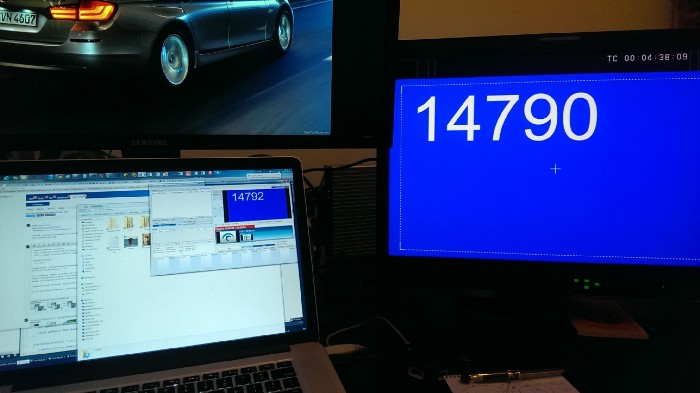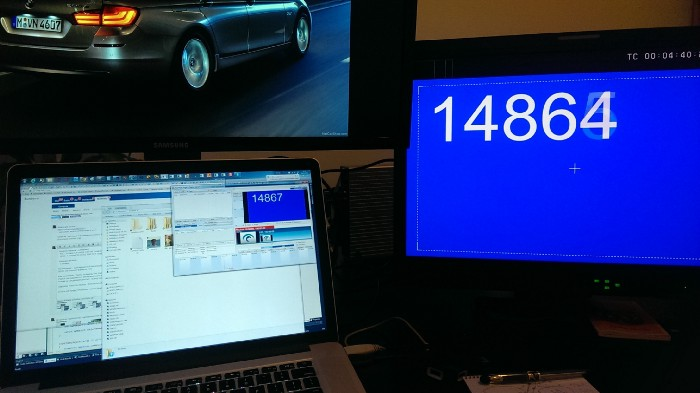 The output latency decreased by 2 frames! This is very, very good news for our customers.
Below is a brief summary of our impressions about the device.
What we loved
The full duplex feature.
Low latency (3 frames total on pass-through and 1 frame on output).
Seamless switching from passthrough to output.
No need for an external monitor to preview the stream: the integrated color LCD on the front panel makes life easy.
The video and audio input buttons. The currently used channel lights up on the button no matter how you change it: via the buttons or programmatically (from your application).
Great when used with a laptop. Laptops are used more an more often among software developers (many of our customers prefer them to desktop computers). This is especially important for people like us, who test their software with different hardware and have to plug things in and out all day long. Can also be used with the new Mac Pro. (This, of course, is true for all Thunderbolt devices.)
What we think can be improved
There's no on-off switch. Probably not an issue for rack use, but we would prefer a physical power button since we have to plug things in and out all the time.
The coolers are too noisy. We use MacBook Pros for most of the development work, and we just love how quiet these things are. Being with a working UltraStudio 4K in one room all day is not something we'd like to do.
Would be nice to have the power cord and Thunderbolt cable in the box.
What we'd like to see (not critical)
Hardware up/down HD/4K conversion. Now it supports HD and 2K only.
Possibility to choose whether input or output is displayed on the LCD.
See also