Remote contribution from reporters and anchors working at home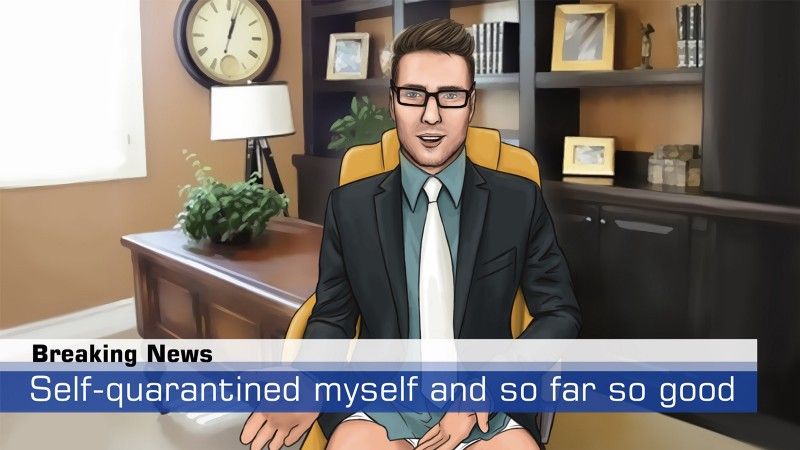 As the pandemic began its explosion around the world in the end of March, one particular scenario became overwhelming, which led us to quickly introduce a couple of new features into the Video Transport product — particularly VT Guest, a new Windows application, and the new, completely redesigned web contribution link.
Although a terrible number of events had been cancelled (such as in sports and music industries), a lot of video production was still required — in business communications, esports, post-production and broadcast television. All of these require someone, often several people — news anchors, reporters or guests to remotely contribute to a production from an isolated location — such as a home or a dedicated studio.
We've found out that there are two distinct categories of how this can be arranged. In some cases, like with The First, each anchor has a permanent setup and contributes regularly, if not every day. In other, the contribution is a one-time thing, so producers either use equipment available on site, or deliver a portable setup and manage it remotely.
All of these options are covered by the tools provided with Video Transport: the new VT Guest app and the web contribution link. Both provide bi-directional low-latency transmission in high quality, ease of use and require minimum hardware that doesn't take up too much space.
The technical user guide for setting them up is available in this article.
The new VT Guest application
Since the majority of on-air talent was forced to work from home, they have literally built temporary studios at their homes. In such cases, or, if there's a way to ship a portable setup to the contributor's location, we recommend using VT Guest — a Windows application that supports all features of the VT protocol. Based on SRT, it features dynamic FEC recovery algorithms and our instant connectivity and network traversal feature. Available codecs are H.264 and H.265 (HEVC), the latter available only on GPU (Nvidia is recommended). VT Guest allows to connect professional cameras via SDI or NDI®.
The new web contribution link
If remote contributors are Mac users, or, if there's no opportunity or long-term value in setting up VT Guest for them, the new web contribution link comes into play. As you can see below, it offers a kind of video conferencing experience — something most people are already used to.
However, the web contribution page is limited to WebRTC, so all the potential of our transport technology cannot be fulfilled — although we still provide better quality than other WebRTC implementations. The choice of codec is either H.264 or VP9.
No user registration is required — all it takes is sending a link to the contributor, which she can open in almost any web browser (although Chrome is preferred since WebRTC is a native technology to Google).
---
While we expect the public health situation to improve over the next few months, it is clear that restrictions will be phased out slowly and social distancing practices are likely to stay with us longer than we would like to. Therefore, many video production organizations will continue to operate using remote production techniques and might keep them in place even after the pandemic is officially over.
Having had many conversations with current and potential customers, one thing became particularly clear: the knowledge about remote production methods as well as the willingness to take risks and put new solutions in place, greatly varies from company to company. Here's how Nestor Correa, a video production manager at eNOVA, explains the situation:
I think a lot of people aren't aware of what virtual production is. Once they understand the business side of it, they're gonna say, okay, we can use this a lot more… That's my plan for the future. I know I don't need to have a whole four-person crew now. I can just send one person, one camera and use Video Transport to do things live.
See also