New teleprompting products by RUSHWORKS: an interview with Rush Beesley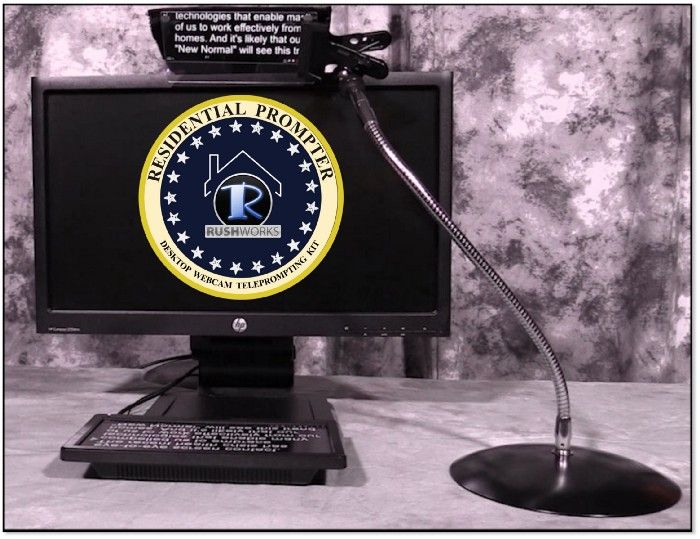 RUSHPROMPTER is a new teleprompting solution from RUSHWORKS, a long-time user of our video SDK. I had a conversation with Rush Beesley about how he came up with the idea and why it is the perfect companion for any at-home video contribution setup.
How has the COVID-19 situation affected your business and the behaviour of your customers?
We've continued to service and support our primary market sectors — government municipalities and broadcasters — helping them adapt to the conditions imposed by the quarantine. The primary challenge has been assisting them with adapting their output for compatibility with Zoom and other similar remote meeting services — since our customers were unable to host the public for their meetings.
We've also responded with contributions of our own, like the four-step guide to looking and sounding better in remote meeting and presentation scenarios. Further, we've introduced a desktop hardware companion for our RUSHPROMPTER which makes it easy to use teleprompting at your desk from anywhere without sacrificing the quality of the captured video — the RESIDENTIAL PROMPTER.
So it's been business as usual for the most part. The exception has been the interruption of our supply chain on certain items, most of which have been resolved. As with all crises, they are generally short-lived. The key is to adapt and accommodate without losing focus on the long-term.
Has the coronavirus produced any effect on sales? Was there a spike in interest to a particular product? Or was there a market that held off their purchasing activities?
Virtually no effect on sales into any sector. No purchasing delays we're aware of.
How did you come up with the idea of building a teleprompter device?
Everything we do is based on observing the marketplace and determining how technology (and common sense) can provide an effective, low-cost resolution to problems.
I've been involved with teleprompters since the late 60s… and have watched the evolution over the decades. They are very valuable tools in the video presentation architecture at many levels, and we needed a simple, flexible alternative to integrate into our VNEWS production system. It needed to be able to support embedded triggers that could launch and take clip playback automatically, since this is designed for a single operator to write, produce, direct and be the on-camera anchor for a complete newscast.
It's gotten sidelined a bit since the rollout at the last attended NAB due to other things we needed to clean up… as well as trying to stay current with the enormous demand — globally — for our PTX Model 1L and Model 2 pan/tilt heads. And our RUSHDOLLY is finally on track, with folks recognizing the power and cost-effectiveness of this sweet bit of robotics.
Things just take time to catch on… but if you have persistence, and a good idea or product, you have the best chance of gaining traction in your market sectors.
Who would you say would be the typical customer for this new product? And, in addition to VNEWS, is it designed to work with any other RUSHWORKS software?
The RUSHPROMPTER, along with the RESIDENTIAL PROMPTER hardware kit, is ideal for folks wanting to make a corporate presentation or do the on-camera portion of a product demo. Each typically utilizes a teleprompter for optimal execution.
Of course the RESIDENTIAL PROMPER hardware kit can be used with any teleprompter software, as long as the text can be mirrored in software — or in the monitor — to reflect properly on the prompter glass.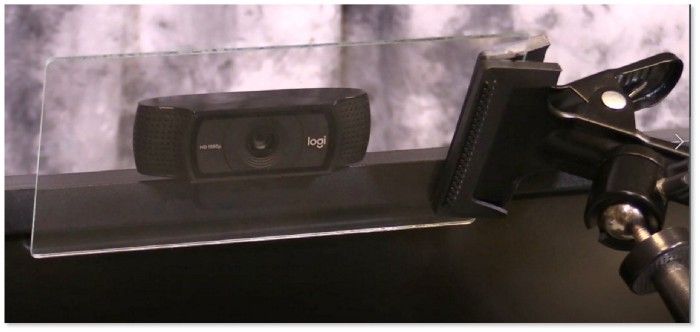 So, the RUSHPROMPTER is a software app that one can run on a PC screen, and the RESIDENTIAL PROMPTER is an optional hardware appliance that can be used with it? How exactly does the hardware unit work and why would anyone need it in an "at-home" environment?
It's just a simple rig that includes base, extension arm, spring clamp, mirrored 60/40 reflective glass (7x4") and a black light blocking cloth.
If you're running the RUSHPROMPTER software on your computer, just attach a secondary monitor screen (suggested is 12" 1920x1080 — about $130) and set it on the desk in front of your keyboard beneath the monitor. Position the little prompter kit in front of your webcam and drape the blackout cloth over the back of the camera. Run the prompter software and extend it onto the second monitor, using the "mirror" function in the software to reverse the text so it appears properly in the mirror reflection.
Then look your targets in the eye and make the best presentation ever!
How is your product different from other solutions on the market and what is the price?
Since most teleprompters do about the same thing, all we did was follow our mission statement in its design: Keeping It Super Simple. We only included the features that most users want and need, stripping it of things we considered confusing or unnecessary, and focusing on what's most important. It has one font — Arial — and imports/exports only RTF and text files. The ubiquitous formats make it universally compatible and network accessible from an unlimited number of nodes.
Speaking about the hardware kit, there are a few desktop prompter systems available, but many are priced in excess of $2,000. Our kit is a simple and cost-effective way to accomplish the same thing (no smoke… but certainly with mirrors). The key is being able to use a webcam at your desk to deliver and record your presentation using teleprompter script. The basic hardware kit is $595. The RUSHPROMPTER software can be downloaded, tried and then purchased for $99.
See also