Medialooks adds playout support for Stream Labs cards
NAB 2016, Las Vegas, United States — April 18, 2016 — Medialooks today announced official support for two new boards by hardware manufacturer Stream Labs: the Alpha HD and the MSP2. This is the first time Stream Labs boards are supported for output (previously only ingest was supported via the popular MH4LM).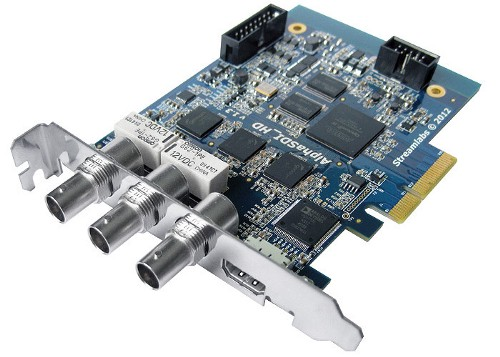 The Stream Labs Alpha HD has 3 SD/HD/3G-SDI connectors and 1 HDMI output. One of the SDI connectors is used for input or genlock (tri-level sync or black and burst); one for fill output (with built-in watchdog timer and bypass relay) and one for key output. The HDMI output can be used for preview. Stream Labs recommends this board for CG systems and playout servers. One of the key features of Alpha HD is bypass relay — the input would automatically switch to output if there's a software crash or loss of power.
As with the MH4LM, customers can use this board as part of an SD solution today and upgrade to HD later without changing the hardware.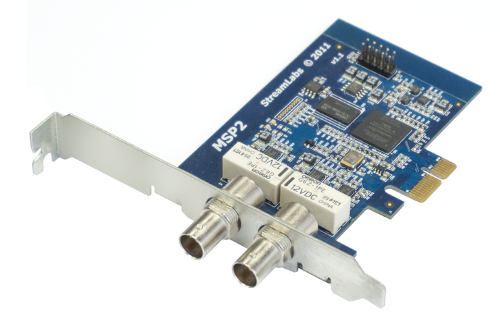 The Stream Labs MSP2 has two ASI/SDI connectors and it can work either as dual input or 1 input plus 1 output: the first connector works as SD-SDI or ASI output; the second connector works as SD-SDI or ASI input or output or as SD-SDI key output. This board also has a bypass relay and a watchdog timer. (Please note, that as of today this board will only work in SDI mode, because ASI is yet not supported by Medialooks SDKs.)
"Stream Labs today is the only partner who performs their own integration with Medialooks' SDKs using our open interfaces," — says Andrey Okunev, Medialooks CEO. "This way they can iterate faster and run their own series of tests before we confirm the integration in our own lab."
Stream Labs, founded in 1991, develops and manufactures professional broadcast solutions ranging from video capture hardware to monitoring solutions and playout systems. The company has offices in the USA, Taiwan and Latvia.
Medialooks, founded in 2005, provides broadcast customers with software development kits to quickly build playout automation, virtual studio and video capture solutions. Customers include RUSHWORKS, Multicam Systems, PlayBox Technology, Arvato Systems, Masterplay, Etere, Axel Technology, Xeus Media, HARDATA and Wolftech Broadcast Solutions. Medialooks is exhibiting as part of the StudioXperience booth (SL2425) at NAB 2016.