Video SDK: TV automation solutions for ENCO Systems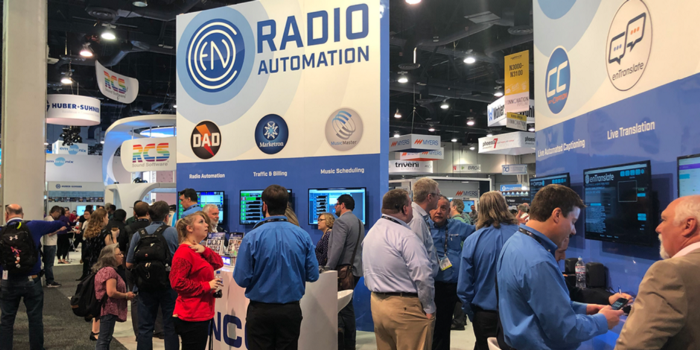 ENCO Systems, based just outside of Detroit, is a leading provider of automation solutions for radio and television. I had a conversation with Ken Frommert — the company's president since 2011 — about their products and how Medialooks has helped bring them to market.
Founded in 1983 as an industrial automation company, ENCO found its way into automating audio for TV and radio stations in the early 90's, which quickly became the company's main focus — and it has remained that way ever since. The company is based in the US and leverages an extensive network of dealers and integrators that helps establish its global presence and acts as an extension of their sales and support force.
ENCO has been in the radio industry since 1992 and proudly serves customers of all sizes, ranging from radio networks such as Fox News Radio, ESPN, Entravision, and Vista Radio to low-power AM/FM stations in the US, South America, Europe, Africa and Southeast Asia.
We pride ourselves on the flexibility of our software platform and being able to attend to the needs of both small and large broadcasters by providing a stable solution to both.
ENCO earned its market share in the TV industry by providing audio playout and automation solutions for live and production television. From music and sound effects on The Tonight Show and Saturday Night Live to audio reels on CNN, ESPN and Fox Sports, a large portion of what's heard on television is powered by ENCO solutions.
ENCO streamlined the process for logging the playback of audio assets, allowing TV stations to comply with royalty requirements from the music industry.
Rights reporting has been a priority for TV stations lately to protect against lawsuits from the music recording industry. Stations and networks want to make sure that they are properly licensing their audio and need an automated way to keep track of everything.
Broadcasters have been captioning increasingly more content to meet the needs of the deaf and hard of hearing community, as well as remaining compliant with FCC regulations and the Americans with Disabilities Act (ADA). Lately, the industry is buzzing about automated closed captioning, which has been improving workflows and allowing stations to accurately caption more content, all while saving money.
In addition to serving the hard of hearing community, there are many reasons to provide captioning. For people who speak English as a second language, captions can improve comprehension. Uploading a transcript to one's website to tag video content can help with search engine optimization. Even for personal preference: many folks prefer to watch videos on mute and read the captions instead of listening to sound.
The company's focus, however, is on the live aspect of closed captioning — ENCO provides one of the few solutions that converts speech to text within a couple of seconds that can be displayed on a screen during a live event or within a web stream. They are now partnering with another Medialooks customer, RUSHWORKS, to provide a tight integration with their video production solutions by leveraging the built-in data transfer approach available in the Medialooks SDK, alleviating the need for additional hardware.
We interface directly with other companies, software platforms and hardware systems to "close the loop" — increase efficiencies and simplify workflows for stations by, essentially, automating tasks.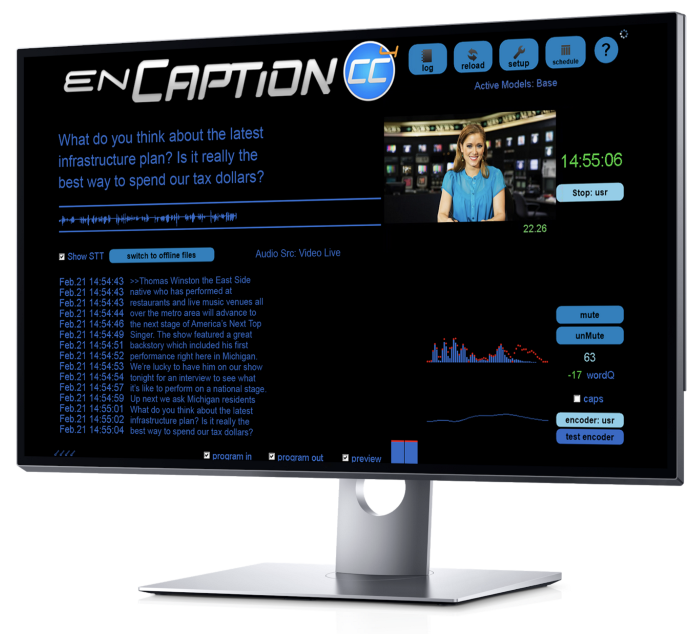 The company's presence in the TV market is quite impressive, featuring major brands like CBS, NBC, CNN, Fox News, MSNBC and CNBC. Ken cites flexibility and being able to innovate and adapt quickly to the constantly changing requirements as key to ENCO's success.
We don't have a six month or one year development cycle to get something out. If one customer asks for something, chances are another customer might need the same thing, and we want to implement that quickly to meet the needs of that customer and gain competitive advantage.
And then there's customer service and support, which Ken believes is the best in the industry: emergency support is provided 24/7 every day of the year.
Our client list speaks for itself. Household names have been clients for decades. They can choose anybody and they re-evaluate every year whether they're going to keep paying for our support services. Year over year they continue to rely on our support team because we're reactive to their needs and we're there to help them when they need it.
A Medialooks video SDK is currently used in all products that involve video.
We wanted to bring the same level of reliability in our audio products to the video market, so we needed a way to work with all kinds of video feeds to build a TV automation solution. That's where Medialooks came into play.
The company researched different types of solutions but soon found out that using Medialooks was the most efficient way for them to get to where they needed to be.
I left it to my CTO and developers to find the most efficient way of doing this and they stumbled on the Medialooks SDK. I remember the day our lead developer introduced me to the features; he was excited to see that we could accomplish our goals a lot faster with the use of this type of SDK. We started with the demo and kept adding the different capabilities and features as needed.
Although it was possible to play video files before deploying our SDK, this capability was limited to certain types of files and codecs:
The beauty of your system is the ability to transcode anything on the fly. Any file type we could throw at it, Medialooks already had the capability. Immediately upon integrating the SDK, we had a comprehensive list of file types and formats that we support.
ENCO started with MFormats for their video automation solution, adding additional features as their new automation system continued to develop. Deploying WebRTC to manage and run the company's solutions from a web browser, as well as implementing a video pipeline for captioning, was made possible with the help of Medialooks.
Just as his own customers value ENCO's support team, Ken values the responsiveness and quality of our support above anything else.
Your product is great and you're constantly evolving and adding features as you uncover new needs, but above all else, it is the customer service that is the most important in our relationship. We look for a partner in all the products that we buy, and we found that in Medialooks.
With the help of Medialooks, ENCO managed to save months of development time and go to market with new products faster.
Having the basic requirements handled by a powerful SDK allowed our developers to focus on what they do best: innovating to meet the needs of broadcasters. Using your SDK was instrumental in creating our new television solutions and we think of Medialooks as an extension of our development team.
See also