NDI Video Streaming with Video Transport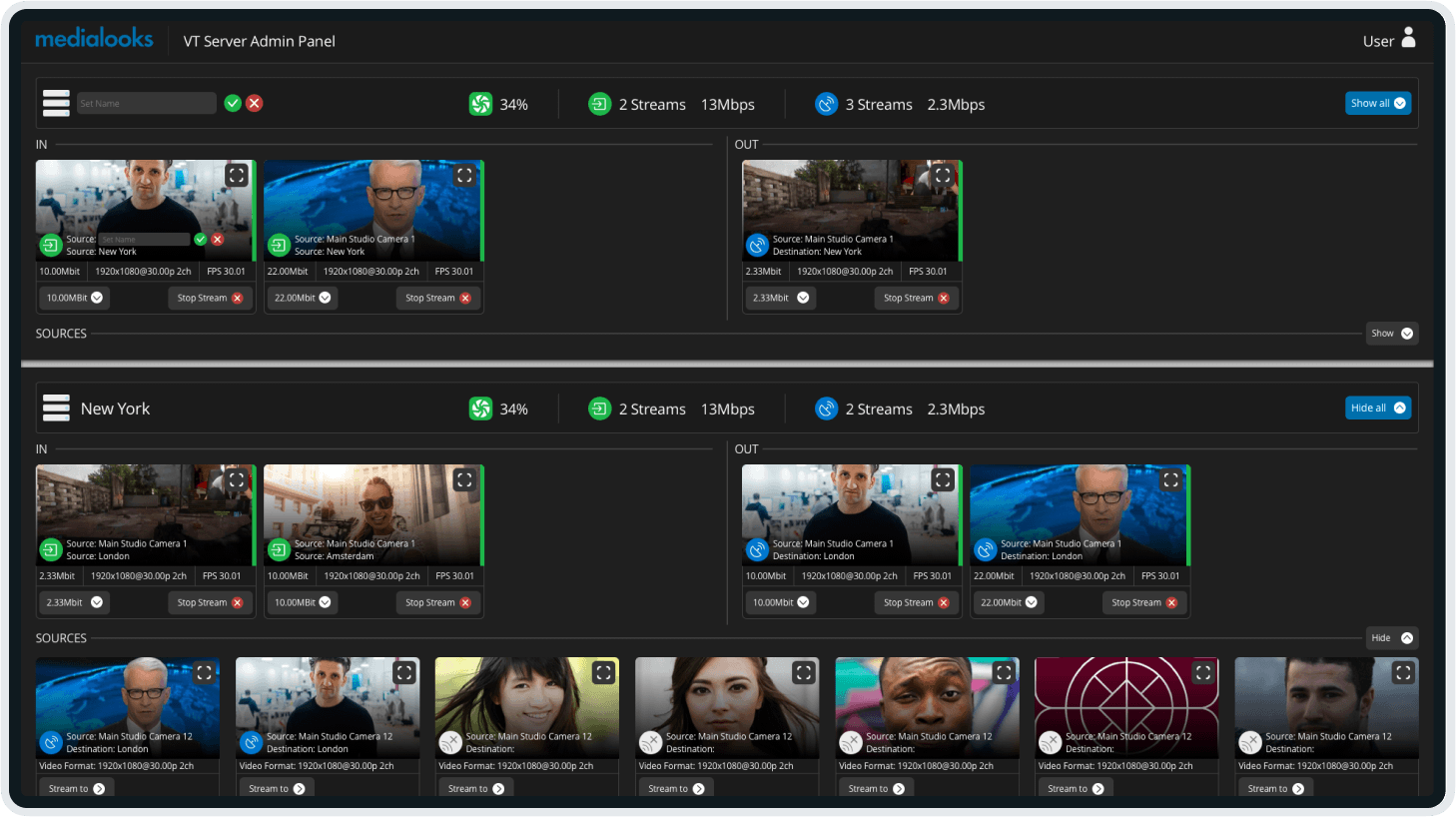 Medialooks Video Transport is a powerful and reliable video streaming solution that enables video production teams to transmit live video feeds of SDI and NDI over the public internet with up to real-time latency.
Whether you are involved in remote multi-camera production, integrating remote anchors into a live studio production, or directing a virtual panel discussion, Video Transport provides a flexible, affordable, and easy-to-use solution to bring your video production game to the next level.
NDI (Network Device Interface) is a popular video-over-IP technology that allows video sources and destinations to be connected over a standard Ethernet network. With Video Transport, remotely located NDI sources can be instantly available via the public internet, in production quality and with up to real-time latency.
Video Transport supports NDI streaming by providing a reliable, low-latency connection for NDI-enabled devices. This means that you can use NDI to transmit high-quality video feeds from remote locations, without the need for expensive hardware or complex setup.
In addition to NDI streaming, Video Transport also supports SDI streaming, SRT (Secure Reliable Transport), and other popular video-over-IP technologies. With Video Transport, you can easily connect your video sources and destinations, regardless of preferred workflow, physical space, or distance.
Whether you are a small video production team or a large enterprise, Video Transport can help you achieve your video streaming goals with ease. It provides a powerful combination of features, including:
Real-time video streaming with low latency
High-quality video and audio transmission
Support for NDI and SDI sources
Easy-to-use interface and intuitive workflow
Affordable pricing with flexible plans to suit your needs
Video Transport is a reliable and cost-effective video streaming solution that allows you to focus on creating great content without worrying about technical details. Get started with Video Transport today and experience the power of NDI video streaming over the public internet.
Try Video Transport today and experience the power of NDI video streaming for yourself.