MPlatform used with the Stream Labs MH4LM: two customer stories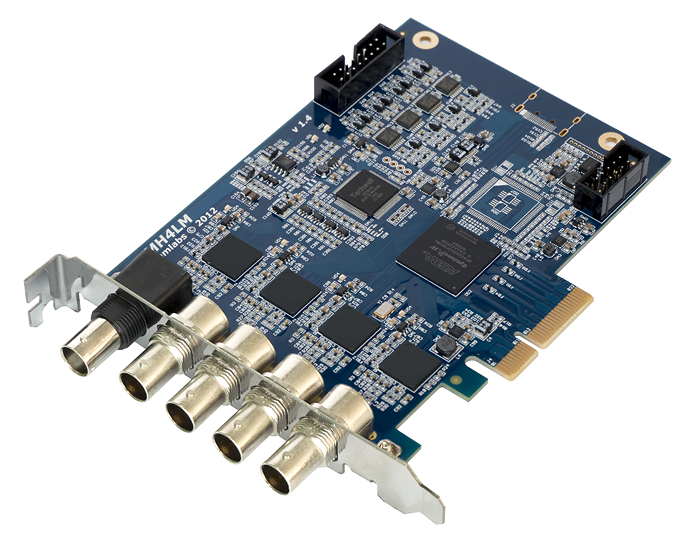 After an intense period of close collaboration, we now have 2 customers using MPlatform with I/O hardware from Russian company Stream Labs. These companies are: April Broadcast from India and Rushworks from the U.S. I am excited to share some information about their products in this post.
This post is also available in Russian on the Stream Labs web site.
April Broadcast, India
April Broadcast, founded in April, 2013, has already released 3 products:
a PC-based virtual studio solution for the educational market;
a three-camera chroma-key PC-based virtual studio solution for high-end television;
an HD switcher/mixer for the Indian wedding market based on industry-standard video cards.
All three are based on MPlatform and MComposer, our GPU-powered video mixing engine. ChoiceHD, the HD vision mixer for weddings, uses the Stream Labs MH4LM board on the input and Blackmagic's DeckLink Studio on the output.
I asked Sandeep Ohri, the company's founder and CEO, what exactly they liked about the Stream Labs board, and he said, "It is the flexibility of configuring analog as well as digital signals on the same connectors — as well the cost. ;) In India we still have a lot of "legacy" of analog — and so we needed to use something that would enable the user to protect his investment during the crossover from analog to digital and including 2K/4K."
ChoiceHD, launched in January 2014 with a cinema-style video trailer, was created as an alternative for Indian wedding videographers, who — until this day — had no other option but an expensive system from just one well-known vendor, who locked them into proprietary hardware. ChoiceHD gave, literally, the freedom of choice to the Indian wedding videographer. It is cost-effective, runs on a regular PC, handles 4 live HD cameras and does recording, streaming and broadcasting simultaneously.
The application is robust and already supports 2K and 4K, so the user can have this feature by simply swapping the I/O boards whenever they become reasonably affordable for the Indian customer.
Here's what Salim Shaikh, the company's co-founder and CTO, told us about the experience his team had with our software: "We required a very complex solution with multiple, extremely resource-demanding and sometimes even conflicting parameters, but the Medialooks platform provided enough flexibility to meet our customers' needs. With the excellent support of the Medialooks team we were able to build from scratch and release an entry level Virtual Studio, a high-end Virtual Studio and Online Video Mixer in less than a year! We are extremely happy with their technology and expertise and will continue to build unique products using Medialooks' SDKs."
Sandeep, Salim, we are happy to hear this and will continue our work to help your business thrive!
Rushworks, USA
RUSHWORKS, founded in 2000, has recently licensed MPlatform to support its VDESK and REMO applications. The two apps (REMO being a portable version of VDESK) currently make use of Matrox hardware and are built with the low-level Matrox SDK.
The applications are used for multi-camera PTZ production in schools, governments, houses of worship, music and theatrical performances and athletic events. At the core of the software is robotic camera control, which completely eliminates the need for camera operators. The camera control software supports an unlimited number of presets to be configured for each camera and uses picture icons for touch screen selection of presets. Using RUSHWORKS DoubleTake™ PTZ camera interface, a user with no camera or production experience can select shots that automatically go to "air" in a couple of seconds. With just two PTZ cameras and unlimited presets the final setup has the production value equivalent to a five or six camera shoot.
The software supports up to 12 live inputs, and this is where the MH4LM fits perfectly, providing an easy way for customers to choose between 4, 8 or 12 inputs. Here's what Rush Beesley, the founder of the company, told me about the Stream Labs board:
"The MH4LM input/output card from Stream Labs was especially interesting to us because it supports both analog and SDI throughput at a very attractive price point. In this age of rapid transition from analog to digital, it's great to be able to offer solutions to operations that want or need to remain analog for the present, but who know they want to migrate to digital, and specifically HD, in the future. The fact that the card supports four inputs of analog or SDI, in both SD and HD, separates it from most other current board-level products — and at a price point that lets us be very competitive at every level. The integration of the Stream Labs solutions with the powerful and versatile MPlatform SDK provides a foundation that will solidly support our development and marketing efforts for years to come."
Rush, it is our pleasure to be at your service, and we hope the transition will happen as seamlessly as it should!
About the MH4LM
The MH4LM is a PCI Express 4-channel video capture board capable of simultaneously recording up to 4 channels of SD or HD video. We recommend it for monitoring and TV recording systems (video loggers), multichannel TV broadcast monitoring systems (multiviewers) and multi-camera virtual studios.
Features
ASI/SDI 75-Ohm BNC (4x) connectors with individual indication LEDs.
10-bit SD-SDI at 270 Mbit/s.
10-bit HD-SDI at 1485 Mbit/s.
Supported SD standards: 625/25 PAL, 525/29.97 NTSC, 525/23.98 NTSC.
Supported HD standards: 720p50, 720p59.94, 720p60, 1080p23.98, 1080p24, 1080p25, 1080p29.97, 1080p30, 1080i50, 1080i59.94, 1080i60, 1080i50, 1080i59.94, 1080i60.
Supported analog video standards: NTSC (M/4.43), PAL (B/D/G/H/I/K/L/M/N/60), SECAM.
4 embedded analog audio stereo capture inputs (24 bit/48кHz).
Full list of features available at the Stream Labs web site.